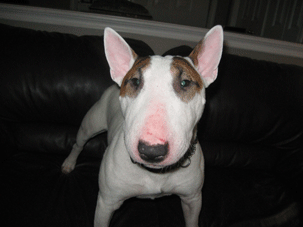 Ch. Madhouse Pretty Fly Bullydust

Health Testing:
PLL Clear

Deuce comes to us from Madhouse Miniature Bull Terriers www.madhouseminibulls.com . Deuce received his championship on March 3, 2012 with a Group 3 win and was owner handled. Very proud of our team!

Deuce is quite the little character. He is a bit of a bull in a china shop and you can guarantee if there is anything going on, Deuce is bound to be at the centre of it. Deuce has the amazing ability to be at one end of the house one second, and sitting in the middle of your popcorn bowl in your lap the next second. He truly lives up the name of a two year old in a fur coat! In addition to his happy-go-lucky demeanor, he has a very laid back temperament. He has been known to actually fall asleep in dog training classes.

Deuce is a bit of a movie star. Deuce and his littermates were featured on Animal Planet, Dogs 101 when they were about 3 months old.