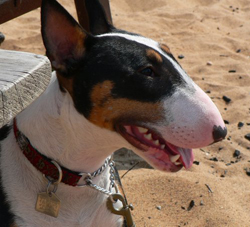 Ch. Mooncraft's Premier Hipposleek

Health Testing:
PLL Clear

Bacon has worked very hard in the show ring to achieve her Canadian Championship on June 25, 2010. Thank you to Judge Letitia Bett for her final points. Thank you also to Linda Yasinski and Zabrina Livingstone for handling her to her true potential. We are very pleased that she was able to win some wonderful group placements. Thank you to Judges Marilyn Mincey and Lititia Bett for these group wins.

Bacon came to us from Finland in November 2008. She is co-owned and loved by Yunn Au-Yeung. Click here to read more about her on Yunn's website.

Bacon is a very sweet, cuddly, affectionate little lady and is definitely a favourite amongst visitors to our home. Maybe it is her "sad" eyes, but I think it is more her quiet and sweet nature. But don't let that fool you, she can be a little monkey! She is a very smart and clever girl who likes to anticipate your next move so she can beat the others to the prime spot on the couch or behind you when you work on the computer. If Bacon had her way, she would be your "pocket" dog.

We have very high hopes for Bacon! Her beautiful profile, gorgeous colouring and wonderful disposition always attracts admirers wherever we go.